How We're Different: We use the human immune system, nature's most powerful weapon against disease, via its "memory" immune response.
Through genetic recombination at cell genesis, each human immune system produces millions of unique memory B-cells, and thus antibodies to fight disease.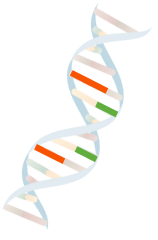 Gene recombination during B-cell maturation results in 1 out of 15,000,000 possible antibody variants per B-cell
Each unique antibody has the potential to bind to a target antigen (bacterial, viral, or cancer proteins).